Egg laying is a strenuous process controlled by hormones and supported by proper nutrition. Inca Honey is included in the Egg Laying Support Program to improve digestive function and as a source of Vitamin D to ensure the full absorption of calcium required for eggshell production.
Egg laying is commonly seen in female pet birds even when a male bird is not present. It occurs when the female bird becomes sexually bonded to her owner and some species such as cockatiels, Lorikeets and Eclectus, who are hard wired to lay eggs, are especially prone to this behavior. Once egg laying begins it may be difficult to break the cycle and when too many eggs are laid additional nutritional support becomes imperative to prevent complications such as dysfunctional ovaries, egg peritonitis, cystic ovaries, egg binding and other life threatening problems.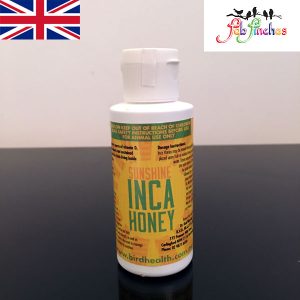 Immediate Treatment of Egg Laying Problems
When egg laying complications such as egg binding and egg peritonitis occur it may be necessary to hospitalise seriously ill birds for crop feeding and emergency treatment. A high energy food containing a calcium supplement is given by crop needle to immediately restore energy and calcium levels and begin the recovery process.
The Egg Laying Immediate Treatment Program (right) should then be implemented to provide a sustained energy and calcium supply for the next seven days. During the critical time it may also be necessary to incorporate antibiotics into this immediate treatment plan according to the a dropping test results if done. Following the initial seven days treatment plan, the Egg Laying Support Program is followed for four weeks.
Egg Laying Support Program
The egg laying support program should start immediately when nesting behaviour appears, at the onset of an egg laying episode or following the above immediate treatment program.
The support program follows a weekly cycle and continues for four to six weeks after this time the normal nutritional health program is resumed.with your female for at least seven days following her last egg to allow her to fully recover from the exertions of egg laying.
this will decrease the potential for additional stress and allow your birds to complete a full egg laying cycle without further hardship and also length the period between cycles.
The egg laying support program should also be introduced whenever egg laying behaviour is suspected, especially following cold spells from June to September when egg laying problems are most prevalent. The early signs of impending egg laying activity include chewing branches, going to the floor to make a nest or other behavioural changes such as tail lifting or sexual activity. Introduce the egg laying support program at the first signs of this behaviours.
Modification of Egg Laying Behaviour
Behavioural modification techniques are incorporated into this program to discourage egg laying. This may include moving the cage to another room or putting your bird in a different area where they do not feel it is safe to lay eggs. Turning off or reducing heating during winter may also be beneficial in halting egg laying behaviour and thereby preventing the opportunity for egg laying problems to arise. Also ensure nest boxes, nesting material are removed and all access to nesting areas is denied.