Welcome to Fab Finches UK
We sincerely hope that this website will provide you with all the information that will enable you to understand and give you a insight in keeping your birds of all species looking and feeling fabulous in their home and aviary.
We are a family run business with over 50 years experience and knowledge and as bird keepers of several different variety species of birds ourselves, Fab Finches has evolved from our own hobby and passion of keeping birds and love of all animals.
We have a good insight in what birds need and require to Thrive and be happy and we are confident that Fab Finches stock only the very best products at the very best prices. We are confident we stock the right products for you and your pets needs, from the smallest of finches to the largest of Parrots to Pigeons and Poultry and small furries.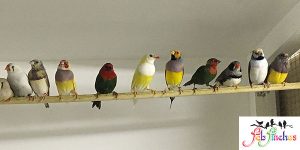 Fab Finches is one of the UK's best suppliers of bird health vitamin & mineral supplements, bird treatments and even the basics needed for your pet birds. 100's of products available suitable for all bird species, from the smallest of Finches to the Largest of Parrots, Pigeons & Poultry.
No matter what species or size of bird you have, there is something for them to enjoy.
We are confident we have all of the right products required throughout our online shop for feeding and caring from just one pair of birds to your entire flock.
Top product brands that are in stock and available to order and deliver immediately to you.
———————————————————————————————————————————————————————————————
Ordering – You may order any of our products through this website, securly and paid via PayPal or Debit/Credit Card.
Our Website – Our checkout procedure is straight forward & secure.
For online orders, we will keep you informed by email of your order progress at all stages from new order received through to dispatch.
Service & Advise
We would never advocate not seeking veterinary advice when required. The below information is only a guide and the products we supply are seen as the step before seeking veterinary advice.

If you have any questions in regards to an order or general questions, please Email Us via the contact us page and we generally get back very quickly during normal Mon-Fri working hours.
———————————————————————————————————————————————————————————————
We often attend bird and finch shows through out the UK please see our Bird Shows page for more information


From the creator
Since I started to keep birds from a very young age and still do as hobby bird keeper, I found myself always on the Look out for great products for my own birds to keep them fit and healthy, that work and help keep my birds in top condition through all the season. There was never one website where I could buy all my feeds, health products or treatments I needed, it was always one website for one and another for something different. So I decided to turn my hobby into a shop that everyone can purchase everything they need all from one place.