-EXTRUDED FOOD FOR OUR OWN GRANIVOROUS BIRDS AND EXOTIC BIRDS. FOR CANARIES, SPINUS, EXOTIC, OUR OWN BIRDS AND ALL OTHER FINCHES.
WHITE
Le Gocce White and YellowGreen made up of natural components are highly digestible, rich in vitamins and proteins. Ideal for your health and growth. Le Gocce White and Yellow Green subjected to high temperature extrusion processing do not undergo the formation of mycoses and bacteria or any pathologies due to seed germination. They do not leave residues and / or dust, they are completely edible. Le Gocce White, completely free from natural dyes, are the ideal extruded food for the Canary 'wing white' as they guarantee the absence of gilding effects.
Ready in 20 minutes (c.ca).
1) Easy to prepare: 100 g of product, 2) 200 freshd water, 3) wait about 20 minutes, 4).
Simple and Easy – How to make this Le Gocce in 20 minutes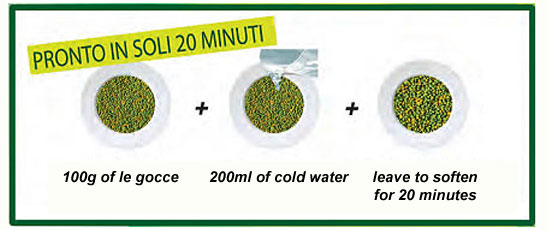 Composition: wheat flour, toasted soya flour no ogm, flocked integral soya no ogm, canary seed
flour, oatmeal, fruit (apple), dicalcium phosphate, inulin, methionine, lysine, flavouring. Analysis: moisture 7,7%, raw proteins 18%, oils and raw fats 4,0%, ashes 4,0%, raw fiber 4,4%. inulin mg/kg 4000, methionine mg/kg 2000, lysine mg/kg 2000.
Vitamins integration for kg: A (e672) iu/kg 2450 – D3 (e671) iu/kg 400 – E (acetate all-rac-a-tocoferil)3a700 iu/kg13,2 – K mg/kg 0,2, b1 (monoidrate thiamine) mg/kg 0,2 – B2 (riboflavin) mg/ kg 1,1 – B6 (piridoxine chloride) 3a831 mg/kg 0,45 – B12
(cyanocobalamine) mg/kg 0,008 – PP (nicotinic acid) mg/kg 5,0 – Pantothenic acid (d-pantothenate calcium) mg/kg 2,7 – Folic acid mg/ kg 0,075 – Biotine (d (+) biotina) mg/kg 0,015 – Choline (choline chloride) mg/kg 30 – C (ascorbyl monophosfate
sodium, calcium, salt) mg/kg 6. Oligoelements compounds: Potassium iodide (e2) mg/kg 0,622 – Sodium selenite (e8) mg/kg 0,184 – Copper sulphate, Pentahydrate (e4) mg/kg 117,867 – Manganous oxide (e5) mg/kg 12,912 – Zinc oxide (e6) mg/kg
24,883 – Ferrous sulphate, monohydrate (e2) mg/kg 97,35. Digestibility promotions: 6 phytase ec 3, 1, 3, 26 (4a1640) mg/kg 100. Antioxidants: butilidrossiltolvene (bht) (e321) mg/kg 20.
Keep in a fresh and dry place. Use instructions: the product can be moistened.
The preparation is simple and fast: 100 g of the white product + 200 g of fresh water, wait about 20 minutes.
It can be mixed with '+10 allpet dry professional food'.