The megabacteria organism (Avian Gastric Yeast) has occurred more and more in the years espically in the budgerigar fancy.
Mega bacteria is most commonly found in birds such as Budgerigars, Gouldians and Zebras. It can also be found in Pigeons, Poultry and any species of bird exposed to it.
Megabacteria typically causes a weight loss syndrome with bulky soft, dark faeces. Food that is poorly digested as the organism infects the bird's gastrointestinal tract, and as a result, the bird's appetite is usually increased.
The course of the disease is usually more than one month, although sudden death after acute vomiting episodes does occur.
Treatment that is typically used is Amphotericin B, an anti-yeast/anti bacteria medication which will need to be purchased from your local veterinarian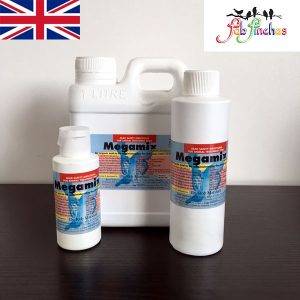 Megamix is only effective as a preventative treatment. Dr Rob Marshall`s Megamix will help prevent the acid fearing germs notably E.coli, Mould and Fungal from multiplying and prevent the growth of the AGY organism but it will not kill it.
Birds given Megamix on a regular basis helps maintain the overall health of your flock. It is safe, natural and non-toxic.